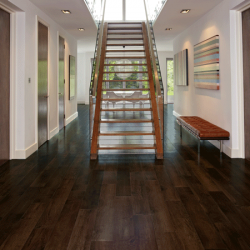 Is there anything more stunning than beautifully-kempt hardwood floors? If you love the untarnished appeal of this flooring material and want to bring it into your living space, Glenn's Tile and Carpet can help. We stock a huge selection of options at our wood flooring store in Flint, MI and take the time to help our customers discover the beauty that each one has to offer.
How do you pick the right hardwood flooring for your home? It helps to see all of the options available to you and sit down with knowledgeable hardwood floor contractors in Flint, MI. Visit Glenn's Tile and Carpet to see for yourself!
Solid Hardwood
The pinnacle of hardwood flooring in Flint, MI, solid hardwood is 100% wood. While it's incredibly beautiful and truly timeless in its appeal, solid hardwood is also prone to expansion and contraction in hot and cold weather. The great thing about true hardwood is the authenticity of its grain and knots, which can be exemplified by stains and finishes for a truly alluring floor.
Interested in learning more about the benefits of wood flooring and how it can raise the appeal and value of your home? Stop into Glenn's Tile and Carpet today to learn more about hardwood species available to you!
Engineered Hardwood
Engineered hardwood is still 100% wood, however the planks themselves are pressed together in such a way to avoid expansion and contraction with temperature fluctuations. It comes in the same styles and species as solid hardwood, with the added benefit that it can be used below grade for basements.
Hardwood Installation
When you've picked out the right style of hardwood and explored variables like color, plank width and finish, count on us to bring your selection to life in your home. We perform hardwood flooring installations flawlessly, leaving you with a regal-looking floor that exudes charm and beauty.
Contact Glenn's Tile and Carpet today for more information about the different hardwood flooring options we offer or to consult with us about the options that might be best suited for your home. Stop in today or call 810-234-0759.